Just as we strive to look fantastic on festive or casual occasions, we must also look impeccable at work but above all, with clothing that is consistent with the functions we perform in our day to day.
On the internet you can get a wide variety of garments that adapt very well to your trade and that will provide you with comfort to efficiently fulfill your day.
Dress like an executive
In office and customer service jobs, a formal dress is usually used that highlights the seriousness of the organization you represent since your role is to be an image and spokesperson for the work that takes place there.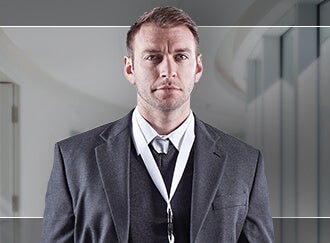 For this reason, it is appropriate to wear long-sleeved shirts with dress pants, jackets and ties for men, while ladies tend to wear skirts or trouser sets with sober and discreet colors, which accentuate their femininity but without showing off too much.
Anything that looks elegant is ideal to use in jobs where the image of the employees is fundamental to the company. You can find this and more in Alexandra.
Take care of others and yourself
Those who work in the health sector should wear a uniform that is functional and comfortable in order to be active during long working hours.
If you are looking for clothes to practice as a nurse, doctor or first aid professional, it is important to look for highly resistant garments with an excellent finish, that are easy to wash and with practical colors for the work that is going to be carried out because we do not to stain them irreparably in the first use.
We must also think about all those accessories that will be useful to us and that we need to be able to carry out our work, such as hair caps, gloves, masks, among others.
Look impeccable behind or in front of the bar
If you dedicate yourself to the hospitality industry, with activities in the kitchen as a chef, at the bar as a barista or bartender, serving the public as a waiter or performing maintenance functions in various places, then you must have a uniform that represents you as part of the staff of the organization, besides that a work team with a similar appearance looks very good since it offers harmony in the space.
Chef's jackets are used in the most prestigious places, while in the more modest localities, it is common to find employees with aprons, which are quite useful and also identify the personnel of the installation among the rest of the people.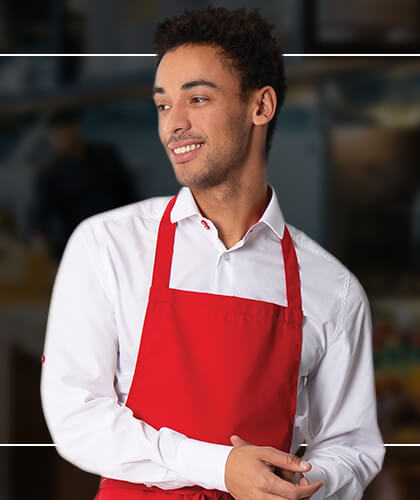 In the same way, the intention of this type of uniforms is to protect those who use them, because when cooking or performing maintenance, they are exposed to contact with different substances, liquids and elements that can make us dirty or mistreat.
Beauty and cosmetics industry
Those who practice their work as stylists and masseurs in professional centers must keep the staff in uniform to give a more formal style to the establishment but for engaging in an activity that requires a lot of effort, the clothing assigned must be comfortable, practical and functional, which facilitates the development of tasks without inconvenience.
The use of loose tunics and pants are among the most used options by professionals in the beauty area since they allow them enough freedom of movement, as well as, they can carry some of the work implements in their pockets.
You can get them in a wide variety of colors so you can combine them with the local tones and look more harmonious. Similarly, different models are available for both sexes.
Dress for sports
If you are a sports coach, physical education teacher or work in an establishment where sports are practiced the ideal clothing is one that is consistent with the activity you do, allowing the mobility and movement necessary for you to exercise your profession.
In general, sportswear are stretchy, cotton and breathable to allow air to circulate and prevent moisture build-up on the skin.
In order to choose the most appropriate type of garment, it is necessary to consider whether it will be indoors or outdoors and the time of year in which you are so that you protect yourself from the cold during winter or if you decide to opt for a light garment when be in summer.
Whatever the job you do, it is good to wear the uniform since with it, you become a formal representative of the Institution or Organization in which you work.
Also, employers are the ones who should take the initiative to provide a uniform to the staff that is part of their company so by purchasing the products in bulk, you can get incredible discounts and many benefits for the image of your establishment.